The selection of the computer case automatically puts restrictions on the motherboard (mobo) ... namely, its size. The mobo can be either a Mini-DTX or a Mini-ITX. Given that mini-DTX mobos aren't very common ... mini-itx it is. I also reviewed the possible chip-sets (thanks to Tom's hardware) and ruled out Z87 and Z97. These chip-sets provide options that I just didn't need in my HTPC ... I'm not using a single GPU, let alone multiple versions. That also saved me a few dollars.
I also read a web site that talked about the mobo layout. He did mention that it isn't a big deal ... but it is something to consider (more on this later).
At the end, I selected a Asus H97I-Plus. I even downloaded the manual.
The manual included a layout of this mobo, after some quick calculations, I was able to print it out to scale. Here is a picture of that printout in the ML07B case ...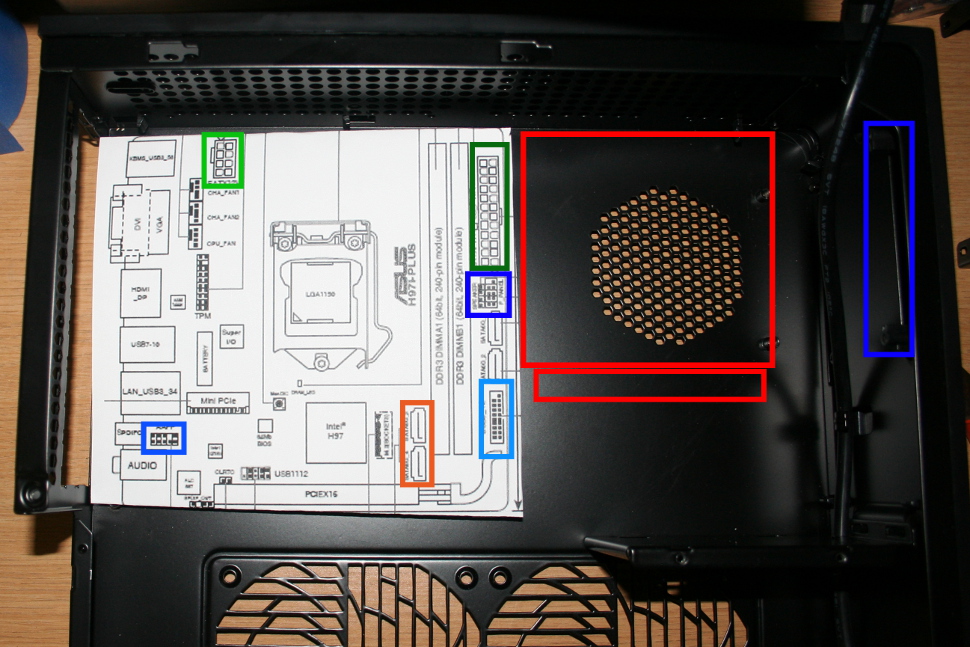 Some commentary on the colored boxes ...
The big red square is where the power supply unit (PSU) goes. The little red box below that is where the power cables will come out
The blue boxes are where the front panel cables come from and go to ...

The dark blue box on the far right ... this is where the cables come from
The dark blue box on the mobo is the front panel switches (power, reset, LED indicators)
The lighter blue box (left) is the front panel audio
The light blue box (bottom right) is the USB3 connector

The green boxes are power for the mobo
The brown box is the data SATA port (connection for a HDD, SSD or optical drive)
I particularly like this layout as the HDD will be about 6 inches away from the SATA port. I can use a stupidly short SATA cable. Lack of cable clutter should is an aim of this build. The 24-pin power cord doesn't have far to go ... and the front cables (except for the audio) should wrap behind the PSU nicely.
Another mobo that I looked at was the Gigabyte GA-H87N ...
... but it's layout ruled it out of the running very early. Look how far those SATA cables would have to go!
The final clincher for the Asus H97I-Plus was the M.2-2280 SSD support ... put the O/S on this, get better speed and one less cable.